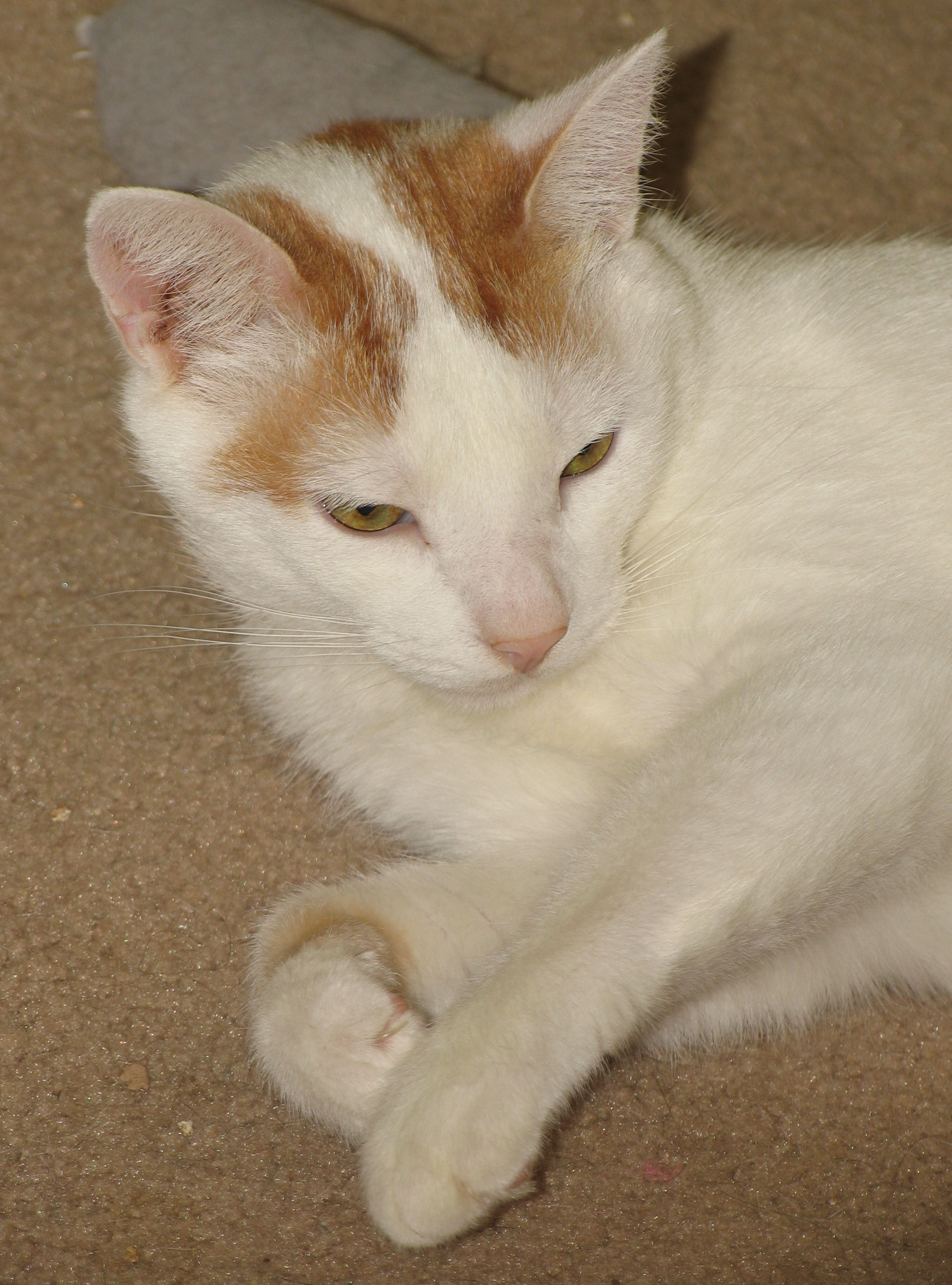 Charger, Charger is a funny guy. He loves people now and is helping to bring Gwen out of her shell and used to people. Charger was brought to Muttshack with a Black and White long hair friend who was placed early on due to her gentle nature. Being that his was of a frightening personality, he was left behind and was labeled as a bad cat. That was only because of his habit of charging you in his cage and striking out at you if you were even near it. Sometimes he connected to people. Now he and Gwen have bonded and I am working with Gwen to get her tame. I hope to get them adopted out together so Charger won't have to go through the separation anxiety again and Gwen can continue on the road to trusting people. He is a Turkish Van.
Gwen, was found near the Camelot Apartments, thus the name Gwen. She is feral, but has improved immensely after being next to Charger who is quickly becoming a rival for Bubba's most friendly cat title. She now greets you when you enter the room, but is still a little shy when you reach for her to pet her. She will let you after you have pet Charger first. The longer you are in the room with her, the more she lets you pet her. I tried to pick her up the other day but once her feet lost contact with the floor, she got scared and wanted down immediately. She is a lot younger than we all thought and she is not spayed yet as she has gone through one recent heat cycle since we have had her and is entering the next.
Update on 02/22/2009 - When the dogs are all quiet at night that is when Gwen makes her appearance to Mary. Mary is Gwen's pet person and she loves to be near her for love. She is still very skitterish and noises or fast movements still scare her away. But she is definitely much better than she was when she first arrived.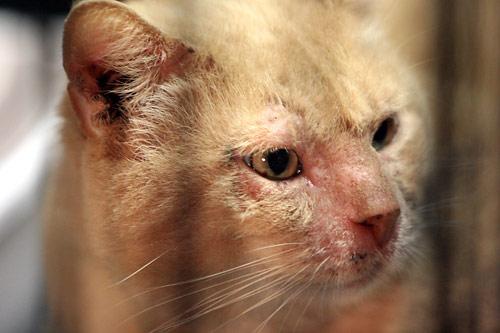 Pneumonia Kitty,
At 4:30am on 02/26/2009, Jean Lafitte lost his battle with FIV. He had the run of our bedroom and bonus room away from the other cats in our home, but never did take to human touch. But we knew he would have been happier outside and free, which he could no longer be. We are planning to have him cremated and hope to find someone in New Orleans to spread his ashes near where he was found so that at least part of him can return home.
---
a.k.a. Jean Lafitte. He is very feral, although he is coming around slowly. He also is FIV+ and is fighting off some very serious infections at the moment and most likely the rest of his life. This photo was taken by the Seattle Times photographer John Lok. He is now living in our bedroom and gets a lot more attention. He has to be separated from the rest of the cats so he won't spread the FIV. Update - as of 02/22/2009, Jean Lafitte has developed pneumonia. Being still very much feral, he did not let on he was ill. Now we wait and see what the vet will want to do for him.
BTW - it was marked on his chart that he was neutered on 10/8/2005. However, upon his initial exam when reaching Washington with my vet we noticed that he wasn't. By that time, he has already been sedated long enough and we couldn't get him done.As he is being kept from all our other cats, he is in no danger of impregnating anyone. It would have made his personality better I am sure. But he was just so scared on the way to/from and at the vets that we decided it wasn't worth the trauma to him.
Bubba
Bubba was the favorite of so many people in the Cattery in New Orleans. He was very friendly. But he was also FELV positive making his life a much shorter one than what we all would have wanted. He is buried in our yard under Bubba's Alaskan Cedar. It will grow to be a huge tree just as he was a huge wonderful cat.
Hello Kitty, a.k.a. Chloe is 15 years old. She has opened up a lot and now "demands" food in the morning, afternoon and evening. She prefers canned since it is hard for her to eat solid food with just one tooth. She is gaining more and more weight each week with her eating so much now. But I believe, like our 22 year old Daffy, who we lost early in 2005, that she will always be a petite cat with a loud voice. She has partial hearing loss which may explain the loudness of her meows.
She did have a habit of swatting you in the head if the top of your head was too close to her. I believe it was because she couldn't see you very well and thought an animal was coming after her. But since she has learned to trust us, she hasn't done any more swatting.
Update on 02/22/2009 - We think Chloe has lost her sight in one eye. She fell off the table she was trying to cross and landed on the side of her head. With antibiotics her eye is clearing up and she may regain her sight. She has taken to howling for attention at all hours and has a real siamese type of cat meow. Once she finds someone, she is happy to sit in their lap. She is still very thin, yet eats alot.
Update on 02/17/2010 - Chloe passed away quietly in her sleep. Her system started to shut down and being as old as she was, we decided not to put her through a lot of tests, but to make her as comfortable as possible. If she was in pain, we certainly would have had our vet help her along, but she was content to be in someone's lap until she was gone.
Hissy was an owner owned cat and has since become part of our family. She is a doll but has a body hernia which she most likely got when trying to survive during the flooding. She will need surgery and the estimate is around $1500 which is why she hasn't been adopted out. With only one income in the family, that will be tough for us. Right now she can wait as it is not interfering in her life. Hissy has turned out to be a VERY loving cat and loves to sit on your chest at night while you watch TV with a paw at each side of your neck like she is hugging you. But since she has gained so much of her weight back, you know that she is there.
Update on 02/22/2009 - Well - Hissy is definitely the queen bee now. She never plays with the others. We think they are all afraid of her which is sad when Hissy does try to play. She still holds her own with all the dogs. And if you sit longer than two minutes and there is room which she can place herself on your lap - she will be there. She loves to sit on your chest with her head near yours. But watch for those claws as she loves to stretch out her paws from time to time to lazily remind you that she is still there and that your attention should be on her and her alone.
Update on 02/12/2012 - Hissy passed away at 1:15am today. She was suffering from a thyroid issue. The meds just kept making her sick so she wouldn't eat. She was too old this time for the tube in the throat thing to get her to eat or the surgery to remove her thyroid. It was time to let nature take its course and as long as she was not in pain, this was the way we went. She will be so very much missed.